The Spice Girls are not often the first topic of office conversation of the day but I filled a huge cultural hole in my wife's life the other night with a special viewing of the 90's classic "Spice World." Oh I saw it the first time. And I owned the album and still know all the words to every track. However, April had somehow had made it these past 16 years without this gem.
Re-watching
this cinematic explosion of color, camp, and cameo is like any re-experiencing of a childhood favorite; concerning, disorientating, but typically satisfying. I knew "Spice World" was 110 percent camp when I saw it as a pre-teen and
re-viewing
it just drove that point home via an impossibly large double deck bus.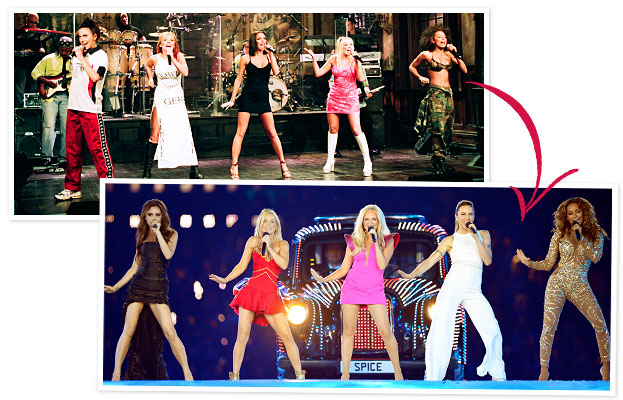 A lot has changed in the land of Spice between 1997 and now: babies, different careers, solo albums, marriages, both failed and successful. But watching "Spice World" again the most startling difference I saw was female body image. Body image is never actually addressed in the film but the Spice Girls were at the height of their success, on top of the world with a message of girl power and individuality - and almost every single girl was a softer, gently rounder version than her modern day 40 year old mom self. They were five lucky female superstars known around the world who performed nightly in skimpy costumes while doing high kicks and cartwheels. They were the Spice Girls but they were full of sugar and pep and positivity; they were always happy and upbeat and loving life. They were young, they were healthy, and they seemed happy to be just that. In the past 15+ years Victoria Beckham has had four children and is often considered one of the chicest of the super skinny celebrities. Ginger was always more voluptuous than the other girls but now she looks like she's trying to be 21 at 42.
In the new millennium thin is in. VB is revered for her (lack of) size, her apparent self-control, her ability to be pregnant one day and the size of a newborn the next day herself. Every time Geri loses three pounds, her photo is back in the rags. My question is, what did we do to our generation's girl power cheerleaders? Their lack of upper body tone didn't matter in the late 90's, so why does it seem to now?
Many of us lose some 'baby fat' in our late 20s. Some women take up exercising after they have kids. People change and times change, but why have these successful women and our idea of female beauty changed so dramatically in less than 20 years? Times are tough now and being female was already hard, our girls need girl power still. I hope we can hearken back to the 90's prosperity, joy, and girl power. And the right to unapologetically go pantless in public, ala Ginger Spice.
Just like that.